Crawl Space Vapor Barrier For Indianapolis, Indiana, and the Surrounding Area
Eliminate Crawl Space Moisture Related Problems with a Crawl Space Vapor Barrier
Excessive crawl space moisture is an Indiana homeowner's worst nightmare. Moisture in your crawl space will lead to costly crawl space problems such as mold growth and crawl space wood rot. Excessive moisture in the crawl space will eventually make its way up into the living area of your home as well. This can also lead to mold growth on floors, and carpets, and even lead to hardwood floors buckling. Installing a SwainCo. crawl space vapor barrier can help eliminate excessive crawl space moisture that escapes from your crawl space dirt floor and your porous foundation walls.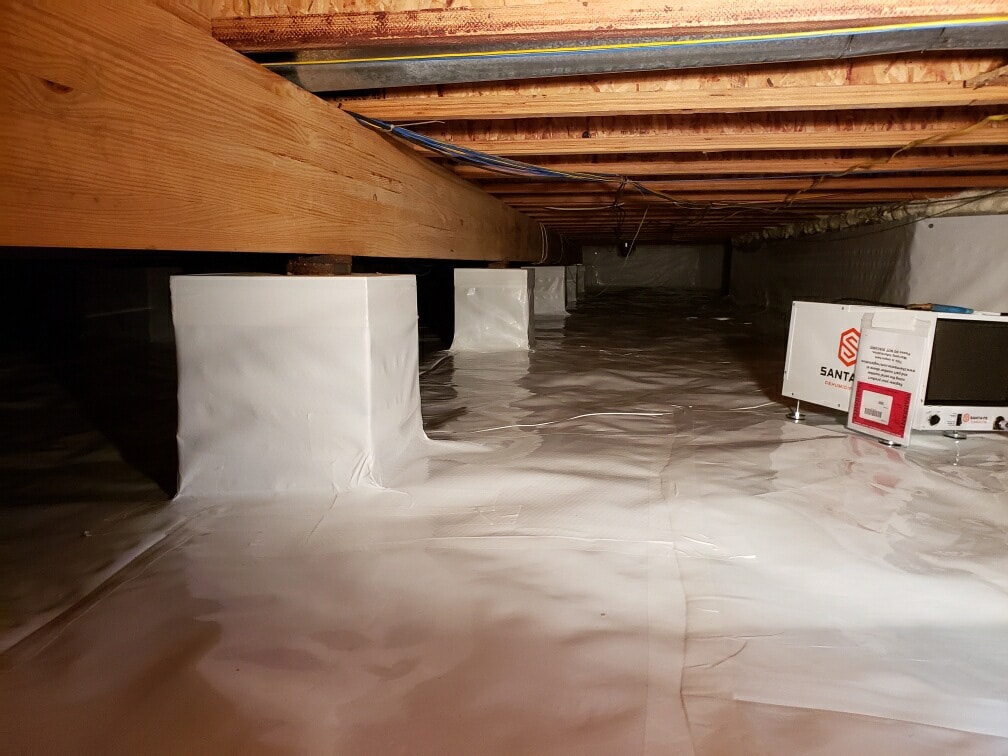 Types of Crawl Space Vapor Barriers
SwainCo. offers a range of different crawl space vapor barriers and complete crawl space encapsulation systems. Our vapor barrier products range in thickness from 6 mil to 20 mil. A standard vapor barrier installation will consist of a minimum thickness of 6 mil and is installed along the crawl space dirt floor. Installing a standard crawl space vapor barrier along the dirt floor helps eliminate moisture escaping out of the dirt floor by sealing the moisture behind the vapor barrier. Thicker crawl space vapor barriers can also be used for standard vapor barrier installations along the crawl space dirt floor. Some Indiana crawl spaces will also get excessive moisture from foundation block seepage. Crawl spaces that get excessive moisture from both the crawl space dirt floor and the porous foundation walls may require a complete crawl space encapsulation system in order to completely seal the crawl space off from all areas of excessive moisture. 
There are many benefits to installing a crawl space vapor barrier, including energy savings by reducing moisture levels in the house, protecting the structural wood in the crawl space, and even preventing mold growth and crawl space odors. If you have a damp crawl space that suffers from excessive moisture then click here or call 317-407-1868 today to set up a free crawl space evaluation and inspection. SwainCo. is Indiana's most trusted, real, local family-owned, and operated Indiana crawl space and basement repair contractor with over 35 years of experience.